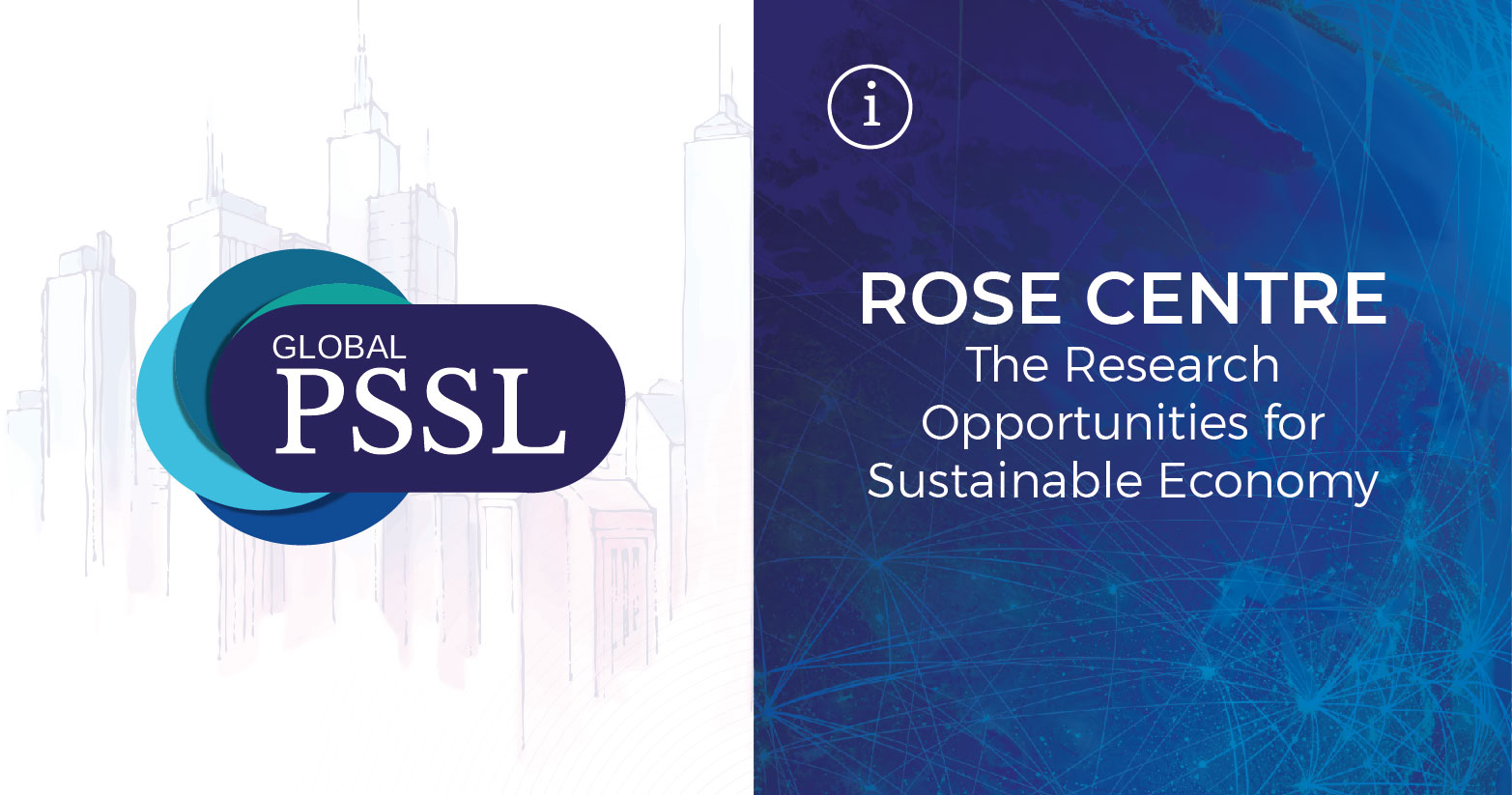 Global PSSL on the rise with support from prominent collaborators
Global PSSL is delighted to introduce a new research centre that will feed its impactful organisation with impartial data, research, and concept testing exercises.
The Research Opportunities for Sustainable Economy (ROSE) Centre will pursue research partnerships with like-minded organisations to harness the combined benefits of industry experience and multidisciplinary research.
Peer review will sit at the heart of the ROSE Centre and draw on the expertise of these partners, Global PSSL Signatories, the College of Advisors, and other stakeholders [see Terms and Conditions].
Representatives from PGGM, Planet Tracker and Quintessential Capital Management LLC have already agreed to work with the ROSE Centre. Peer reviews will also be sourced from our new strategic advisors: Patricia Sharman of CACEIS and Anne Stevenson-Yang of J Capital Research USA LLC., and advisor Professor Julia Black of the London School of Economics and Political Science [see the biographies here] as well as several international organisations.  Further details of these collaborations will be released as the centre matures.
Radek Stech (founding sponsor of The ROSE Centre and Global PSSL CEO) said, "What has always uniquely distinguished Global PSSL as standard setting body is how we further the ESG debate and practice by combining fresh ideas from multidisciplinary research with seasoned industry experience. The ROSE Centre will take this work to a next level by bringing more light to the whole securities lending value chain. This increased open debate represents another piece of the virtuous circle that is necessary for sustainable and transparent finance."
Gabriel Grego, the CIO of Quintessential Capital Management LLC said "Global PSSL is shaping up to be an authentic game-changing model. By subjecting all research to peer review before informing workstreams, the ROSE Centre will ensure impartiality and thwart the unethical behaviour occasionally demonstrated by some stakeholders."
Roelof van der Struik, Investment Manager at PGGM and Chair of the Global PSSL 'Global Engagement, Governance and Stewardship' workstream stressed: "There is certainly room for improvement when it comes to informed opinions in the securities finance and lending world. Driven by research and rigorous peer review, the ROSE Centre will supply relevant and useful input to the Global PSSL workstreams. This will lead the way to meaningful and widely accepted changes to the whole securities lending eco system."
John Willis, Director of Research at Planet Tracker said "As a non-profit financial think tank, we work with a wide range of influential stakeholders across several sectors of sustainable finance. Global PSSL has pioneered innovative solutions to align securities lending with sustainable finance. At Planet Tracker, we support Global PSSL's research and practical efforts to strengthen global governance on securities lending".
Global PSSL has received significant funding from the Economic and Social Research Council (ESRC), part of UK Research and Innovation, through the Sustainable Finance – Law – Stakeholders (SFLS) Network at Exeter Law School.
Grant request was designed based on earlier engagement with stakeholders shaping values-based banking, green bonds and sustainable project finance as well as initial contacts, research and discussions with staff from the World Bank.
END-
For more details, please contact Dr Stech: radek.stech@gpssl.org and/or Ela Slota, Executive Assistant at press@gpssl.org
About Global PSSL
The Global Principles for Sustainable Securities Lending (Global PSSL) is the fundamental global mechanism for aligning securities lending with sustainable finance. This voluntary initiative has been developed through years of research based engagement between Dr Radek Stech, representing the SFLS Network at Exeter Law School, prominent beneficial owners and several agent lenders and other stakeholders committed to positive change.
In order to preserve its impartiality, the Global PSSL framework is based within its own independent community interest company, led by Dr Stech.
For more information about:
PGGM, see: https://www.pggm.nl/en/;
Planet Tracker, see: https://planet-tracker.org/;
Quintessential Capital Management LLC, see: https://www.qcmfunds.com/.