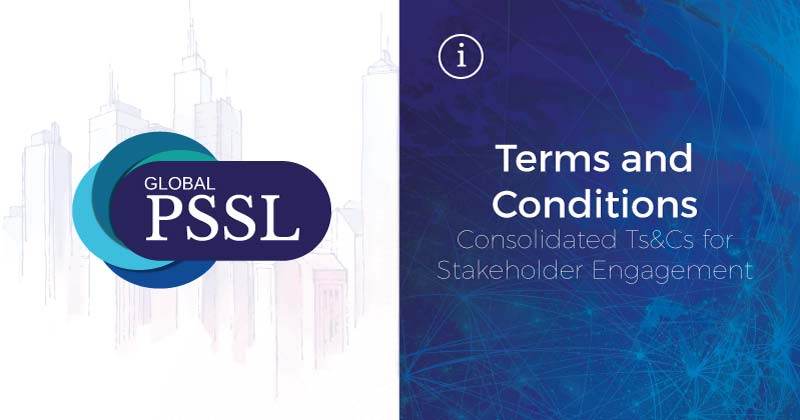 Global Principles for Sustainable Securities Lending (Global PSSL) community interest company (CIC) today issued consolidated Terms and Conditions (Ts&Cs) for stakeholder engagement [available here]. Alongside clarifying key roles and responsibilities, the new Ts&Cs introduced an internal rule for long-term thinking (20+ rule in Annex 2) as part of an ongoing commitment to the broader community of stakeholders.
Radek Stech (Global PSSL CEO) said, "The principles-based approach towards sustainable securities lending makes sense only when the issuing organisation and its leadership are bound to focus on making improvements in the long-term.  Our strengthened governance will meet the ambitions of those organisations and individuals that advocate and implement improvements in the industry. This will result in a broader virtuous circle for transparent and sustainable finance".
Professor Julia Black of the London School of Economics and Political Science said, "The terms and conditions for the Global PSSL Community Interest Company provide a valuable framework to engage stakeholders in the Global PSSL principles and enable participants to work towards their sustainability goals."
Naotsune Nagaoka of Sumitomo Mitsui Trust Bank, Ltd said, "I welcome strong Global PSSL governance and hope other Asian market participants become signatories to this important endeavour."
Ken LaRoe, Founder and CEO of Climate First Bank said, "Global PSSL is confidently improving the securities lending agenda with strong leadership and tangible impact. I am glad to advise in support of this initiative."
Professor Onyeka Osuji (Head of School (Designate) University of Essex Law School) said, "Global PSSL is delivering standards that are adaptable to developing and emerging markets, as well as more established economies. This dynamic model is useful in guiding diverse organisations along a sustainable path."
Roelof van der Struik, Investment Manager at PGGM stressed, "Geometry dictates that the shortest distance between two points is a straight line. The route to sustainable securities lending goals will not be a straight line and the end destination never reached as there will always be room for improvement. With this framework the Global PSSL Community is embarking on a journey with a clear direction of travel but also with the realisation that the journey is just as important as the destination and that our work will never be done."
Fez Yousaf, Fund Administration Manager at Nest Corporation said, "Responsible investment practices in securities lending are a pivotal step towards greater market confidence. By publishing clear governance and ensuring genuine commitment, the Global PSSL is evidencing how it is setting the trend in sustainable finance."
Global PSSL has received significant funding from the Economic and Social Research Council (ESRC), part of UK Research and Innovation, through the Sustainable Finance – Law – Stakeholders (SFLS) Network at Exeter Law School.
END-
For more details, please contact Dr Stech: radek.stech@gpssl.org and/or Ela Slota, Executive Assistant at press@gpssl.org
About Global PSSL
The Global Principles for Sustainable Securities Lending (Global PSSL) is the fundamental global mechanism for aligning securities lending with sustainable finance. This voluntary initiative has been developed through years of research based engagement between Dr Radek Stech, representing the SFLS Network at Exeter Law School, prominent beneficial owners and several agent lenders and other stakeholders committed to positive change.
In order to preserve its impartiality, the Global PSSL framework is based within its own independent community interest company, led by Dr Stech.